Green Energy
Battlefield Heating & Cooling, Inc. offers Solar Ready Equipment by Lennox
There are solar rebates and incentives with the government and depending on your area that you live in, utility companies may have programs for more incentives!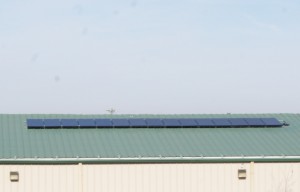 Battlefield proudly supports renewable energy sources and leads by example with solar panels on our own office building (pictured above).  Feel free to come look at our solar setup during office hours, and check our gallery for more pictures.
We are solar ready certified with Lennox. Lennox has an impressive display of solar information including how solar works, a solar calculator, FAQs, and more.
Visit us at lennoxdealer.com/battlefieldhvac and visit the product selection tab to find out more on solar ready systems or call us for more information.
Ecobee thermostats
Save energy with an Ecobee thermostat.
Our technicians can install one today!
The Ecobee is a simple to use touch screen that you can use with your smart phone or tablet. Change or observe your thermostat through wireless remote internet access from anywhere!  Great for people commuting to DC or for those who own more than one home.  It can also tell you your energy consumption and save time and money for you. Homeowners can save up to 26% on their heating and cooling energy cost.
www.ecobee.com
We also have the Honeywell Redlink Technology. This thermostat remotely monitors and controls your system anytime- anywhere, including your humidifier or dehumidifier.